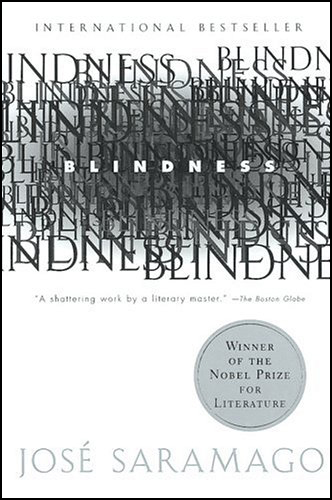 Quickie Recap: Very suddenly, a man goes blind. For no apparent reason, his vision completely fails him, and he has to abandon his car and be helped home by a stranger....who catches his blindness. Pretty soon, an
epidemic
of blindness is ravaging the city.
Quickie Review: Holy hell. I fully expected this book to be good, in the way that
Moby
Dick is good, which I hated. You know, the kind of book you should read, but is awful to read. But it wasn't. It was breathtakingly, achingly, toe-
curlingly
good, and I couldn't believe my luck! I mean, sure the dude has a Nobel Prize, and perhaps that should have been a giveaway, but there isn't any prize that comes close to rewarding an author for such a magnificent effort. I was spellbound from word one. From a purely sociological standpoint, this is a masterpiece. From a more philosophical bent, there just isn't a word out there to express how much this book will make you think, and panic, and mourn, and tear your hair out. And check this: "Do you mean that we have more words than we need? I mean that we have too few feelings." Holy fuck! Is that brilliant or what? Mr.
Saramago
, I owe you an apology. I could have, should have read this years ago but nobody told me that you were a genius. I am glad to have discovered it, and will be gladder still if anyone takes my advice and buys a copy.
Quickie Recommendation: Please, yes.