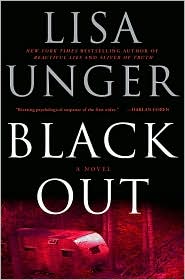 Quickie Recap: Annie Powers is a well-to-do suburban housewife and stay at home mom, or at least that's what she'd have you believe. The truth is, she has secrets, some of which are unknown even to herself, but when something mysterious is threatening her family, she does everything she can to get to the bottom of it all.
Quickie Review: Unger flips back and forth between present and past effortlessly, effectively creating a feeling of suspense that lasts a good 354 pages. Unger is not a master of her craft, but she is a good story teller, and I have to say that I had fun reading this book. It wasn't bluntly obvious, it was more delicate than that, the kind of book that has you combing the pages for hints, and you know what's coming without exactly being able to predict it.
Quickie Recommendation: Good stuff.